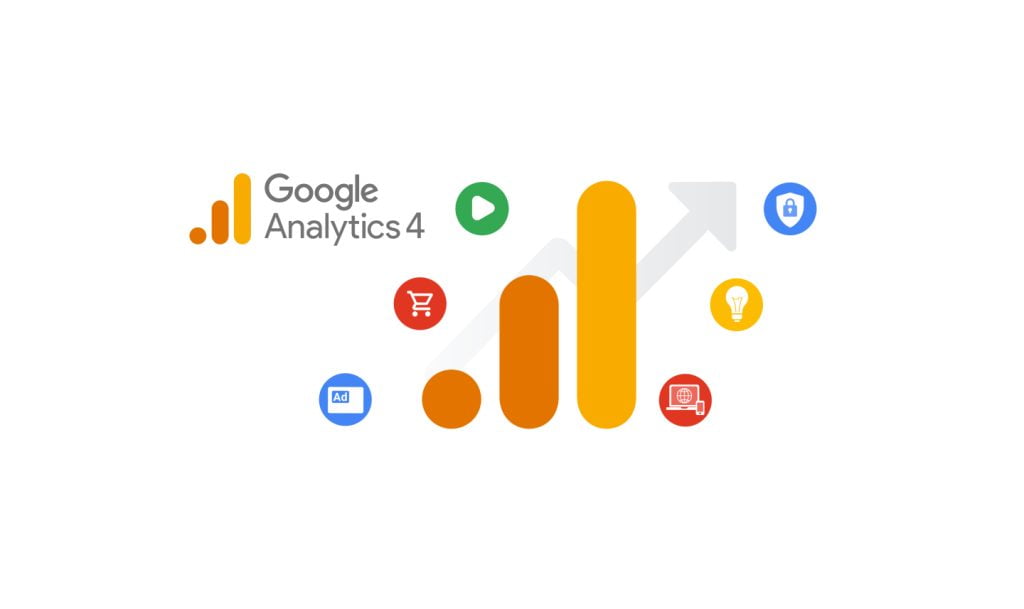 360 Universal Analytics properties will receive a one-time processing extension ending on July 1, 2024. The time is coming.
Why your business should move to Google Analytics (GA4), and why it's better?
Are you ready for the sunset of Universal Analytics in July 2023? We got you covered – see our guide on how to prepare, when Google Analytics 4 is replacing Universal Analytics!
In October 2020, Google launched the newest version of Google Analytics 4 or GA4. The marketing around this launch focused on its powerful features. If you haven't moved across to GA4 now, then you'll want to keep reading.
Let's look at GA4 in more detail and why you should start migrating now.
What's GA4
What's the difference between UA and GA4
Why you should move to GA4 right now
All you need to know about GA4—pro tips

What's GA4?
GA4 is the next generation of Google Analytics. It's a complete re-imagining of what data collection and analysis could be, bringing together everything that worked well in Universal Analytics with brand new features designed to take advantage of the opportunities presented by big data and machine learning.
What's the difference between GA4 and Universal Analytics?
The key difference is that Google built GA4 on a completely new architecture. They built Universal Analytics around the concept of sessions, which are essentially a series of page views. GA4, on the other hand, is built around the concept of events. Events can be anything from pageviews to clicks, form submissions, and even custom events you define yourself.
This change in architecture has many important implications. First, it means that GA4 can collect a lot more data than Universal Analytics. Second, it means that GA4 can give you a lot more insights into what people are doing on your site or app. And third, it means that GA4 can be used to track just about anything— not just web traffic.
Let's look at some of the key GA4 features.
Cross-platform tracking—web and apps
One of the most powerful features of GA4 is its ability to track users across devices and platforms. This means that you can get a complete picture of how your users interact with your brand, whether they're on your website, your mobile app, or both.
This is made possible by using what's called 'data streams', which are essentially different 'views' of your data that you can create based on certain criteria. For example, you could create a stream for all web traffic, a stream for all app traffic, or a stream for all traffic from a certain country.
The other big advantage of this is that it makes it much easier to track conversions since you can see the entire journey a user takes from start to finish, regardless of what device or platform they're using.
Analysis and reporting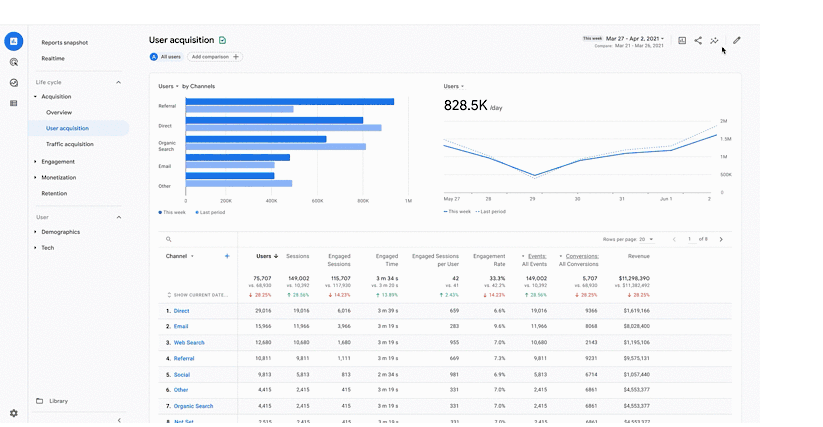 GA4 introduced a new Google reporting section that provides a new toolset to run advanced analysis. This is based on whichever page or event you want. Also, with the new analysis tool, you can export your data into BigQuery for even more in-depth analysis.
BigQuery integration
One of the most exciting features of GA4 is its integration with BigQuery, which is Google's cloud-based data warehouse service. This means that you can export your GA4 data into BigQuery for storage and analysis.
This is a huge advantage for two reasons: first, it gives you near-unlimited storage for your data; and second, it opens up a whole world of possibilities for advanced analysis that simply wasn't possible with Universal Analytics without an external connector.
For example, you could export your data into BigQuery and then use SQL to run complex queries that just wouldn't be possible in the GA interface. Or you could use machine learning to uncover hidden insights in your data.
The bottom line is that if you're serious about data analysis, then GA4's integration with BigQuery is a game-changer.
Better insights with machine learning
Another big advantage of GA4 is its use of machine learning to provide smarter insights. GA4 uses 'probabilistic matching' to stitch together data from different sources and give you a more complete picture of your users.
For example, let's say you're running a campaign on both Google Ads and Facebook Ads. GA4 can use probabilistic matching to match up the data from those two campaigns and give you a single view of how they're performing.
This is just one example of how GA4's use of machine learning can provide you with insights that simply wouldn't be possible with Universal Analytics.
Improved data model
One of the most important changes in GA4 is how data is collected. In Universal Analytics, data was collected via tags placed on each website page. GA4 uses 'event-based tracking', which means that instead of relying on pageviews, it tracks user interactions—or events—as they happen.
This gives GA4 much more flexibility and accuracy when tracking user behavior.
For example, let's say you have a website with a search feature. With Universal Analytics, you would track pageviews for the search results pages. But with GA4, you can track actual searches as they happen, regardless of what page the user is on.
This event-based model also makes it possible to track user interactions that don't necessarily happen on a web page, such as offline conversions or in-app purchases.
In short, GA4's improved data model provides a more accurate and complete picture of how users are interacting with your website or app.
Purchase probability and churn
Another exciting new feature of GA4 is its ability to predict purchase probability and churn. Purchase probability measures how likely a user is to purchase on your website or app. Churn measures how likely a user is to stop using your product.
GA4 uses machine learning to predict purchase probability and churn for each individual user. This means that you can target your marketing efforts more effectively and focus on the most likely users to convert or churn.
Additionally, GA4 will continue to learn and get more accurate over time. So as you use it, it will become more and more valuable.
Why you should move to GA4 right now?
As you can see, GA4 is a major upgrade from Universal Analytics. It's more powerful, more flexible, and more accurate. If you're serious about data analysis, then you should move to GA4 right now.
Not only will you get access to all of the new features and capabilities, but you'll also be able to take advantage of GA4's continued learning and improvement. It's important to consider that Google will discontinue Universal Analytics in July 2023, so you'll have to upgrade anyway.
Would you risk potentially losing your data? We certainly wouldn't.
Since UA will stop collecting new sessions very soon, moving your tracking now means you'll have a year of historical data in your new platform, whether that's GA4 or something else. It also means you won't have a blackout period during your transition since you can use both at the same time until you transition fully. But ultimately, you can test the reliability of your data, and you're not in a rush to migrate.
All you need to know about GA4—pro tips
As you migrate your tracking to GA4, here are some tips from the experts to make sure the transition is as easy as possible.
Historical data and new interface
The main reason to move your data and set up GA4 now, if you plan to remain on Google Analytics, is the ability to make use of your historical data in the future. Like it or not, Google Analytics will be migrating to GA4 as default in 2023, so you'll have to do it eventually. If you do it now, you get two benefits: historical data and a head start in learning the platform.
The second benefit is underrated. While GA4 is a new interface to learn and does lack some of the reports and features easily accessible in the previous platform, it also offers powerful and transformative features like building custom funnels and tracking cohorts. Learning the event-based model will require a mindset shift. Doing so now will give you a headstart in thinking differently about how you log and access your analytics insights.
Bruno Pires Mucheroni, founder of Prima Marca
New data model and analytics capabilities
"One of the biggest reasons you're going to want to start using GA4 today is because, since it has this new data model and needs this new implementation, you have to start using it and start implementing it to get access to all these new features.
You can't carry your existing data from your old implementations over to this new platform. As for the new backend, really, what's changed here is Google's adopting an event-based data model. This data model is very common in other platforms, making it easier to work with.
So at the end of the day, marketers are going to want to start using GA4 because, in a few months, it's just going to be the best place to be. It's where these new features are, where you can create funnels. We can do pathing analysis and understand content performance in ways that were really hard to do in UA.

To get access to all these features, you need to use GA4. It's very easy to use both simultaneously. And for right now, that's the best recommendation, is to continue to use UA, but just start using GA4 in addition to the properties you already have in place."
Ready to make the move from UA to GA4? Contact our support team or request an Audit to follow the best steps!
artificial intelligence cyber-security Digital Marketing security-guide